Estimated Arrival: Between Dec 13 and Dec 15. *ETA to the USA Only
Shipping & Returns: Free Shipping. All The Time.
Guaranteed Safe Checkout
Fast Shipping
Product Guarantee
High Customer Satisfaction
100% safe checkout
Direct from supplier
Expert support team
Descriptions:
****PRODUCT HAS A LEAD TIME. ETA on PRODUCTION to be completed is 4-6 Weeks. DUE TO DELAYS WITH SUPPLIERS and HIGH DEMAND****
Rustic 3 Infrared Outdoor Sauna stands out with its elegant style. Gorgeous but tough, eco-friendly Canadian Cedar wood of a top quality ensures its durability and capability to withstand any weather and outdoor conditions. A gem amongst its line with just enough cabin space to accommodate three people, whilst to offer a comfort and truly relaxing experience. Among its other features this sauna is fully convertible to an indoor unit (ask us about the details).

Rustic 3 is equipped with 6 Carbon Heaters combined with two Full Spectrum heaters bring all the available benefits at safety and effectiveness you have never seen before.
Double Roof ( Flat Roof + Outdoor Roof With Asphalt Shingles, Choose Peak Or Slope Design)
Insulation
Real Western Canadian Red Cedar Wood Outside And Inside
Very Responsive Full Spectrum Heaters
Low Emf
Eco-Certified
Non-Toxic
Bluetooth Player With Speakers FM/USB/AUX/MP3
 Size & Weight:
Interior Specification
| | |
| --- | --- |
| Width: | 57 |
| Depth:  | 47" |
| Height: | 73" |
| Bench:  | 55" x 22" |
Roof Specification
Roof Width:

71

"
Roof Depth:

61"

Bench: 

44" x 22"

Depth: 

46"
Exterior Specification
Width:

61

"
Depth:

51"

Height:

96"

Height:

96"
Unit Weight
| | |
| --- | --- |
| Number of Boxes: |  7 |
| Product Weight: | 800 lbs |
| Shipping Weight: | 850bs |
| Depth:  | 46" |
Features:
Adjust. Temp: 0-149 F
Heaters Number: 8 Heaters
Heaters Type: Low EMF Full Spectrum/Carbon
Timer: 0 - 60 mins
Near/Mid IR Wavelength: 0 to 5 microns
Far IR Wavelength: 6 to 12 microns
Power:
1 separate designed circuit
Amperage: 20 Amp minimum, 30 amp recommended*
Plug: NEMA 5-20p
Voltage: 110/120 V
Wattage: 2250 W
Manual:
DIY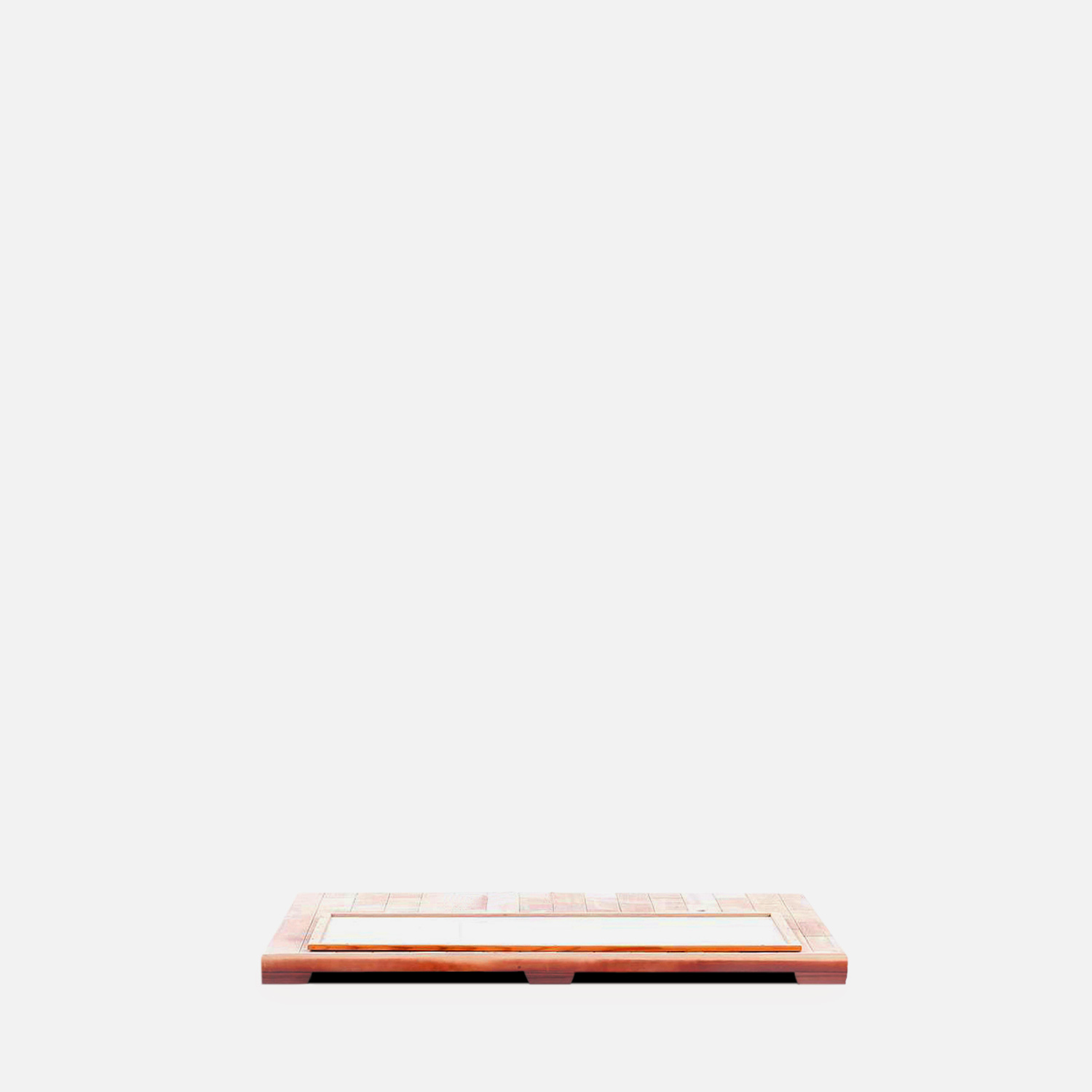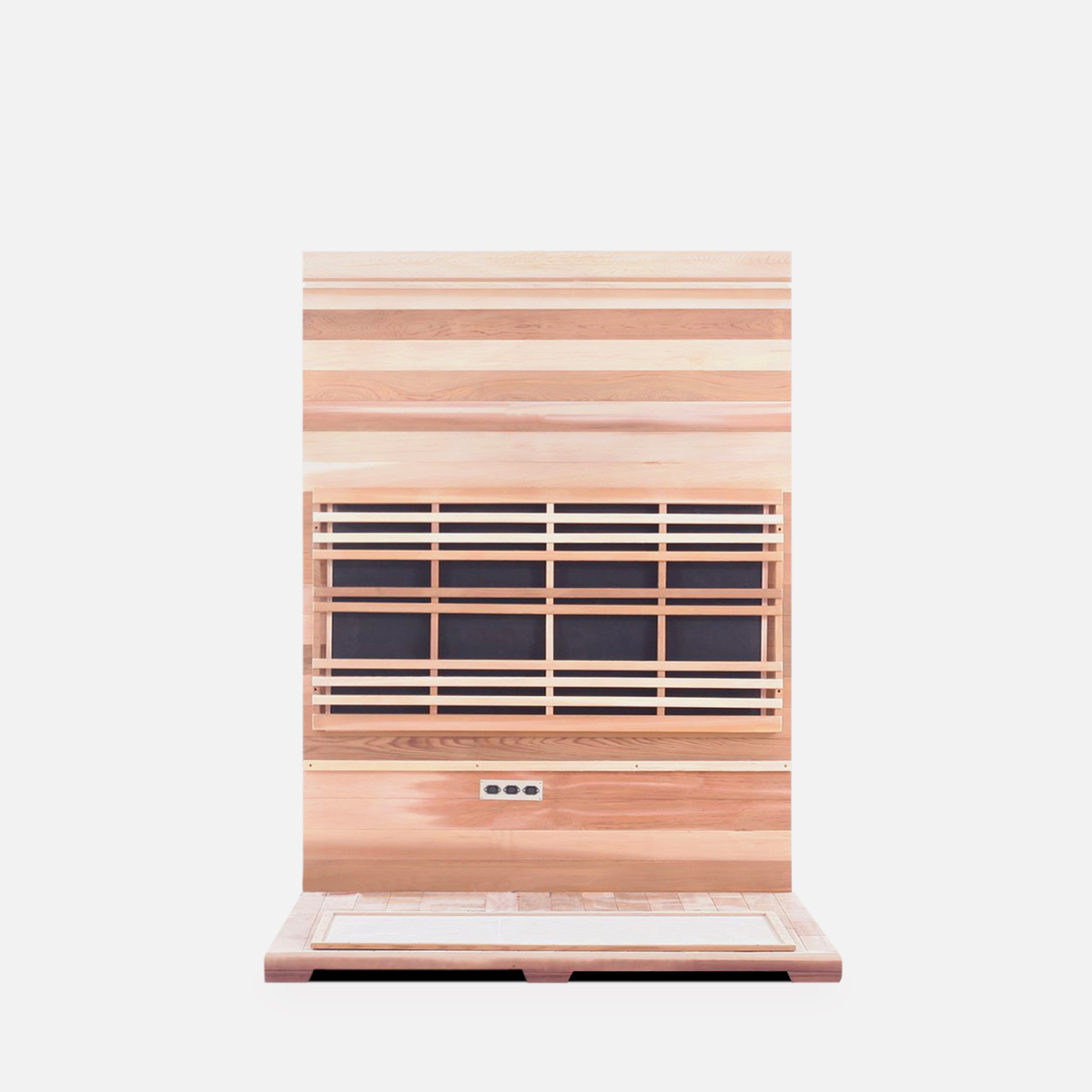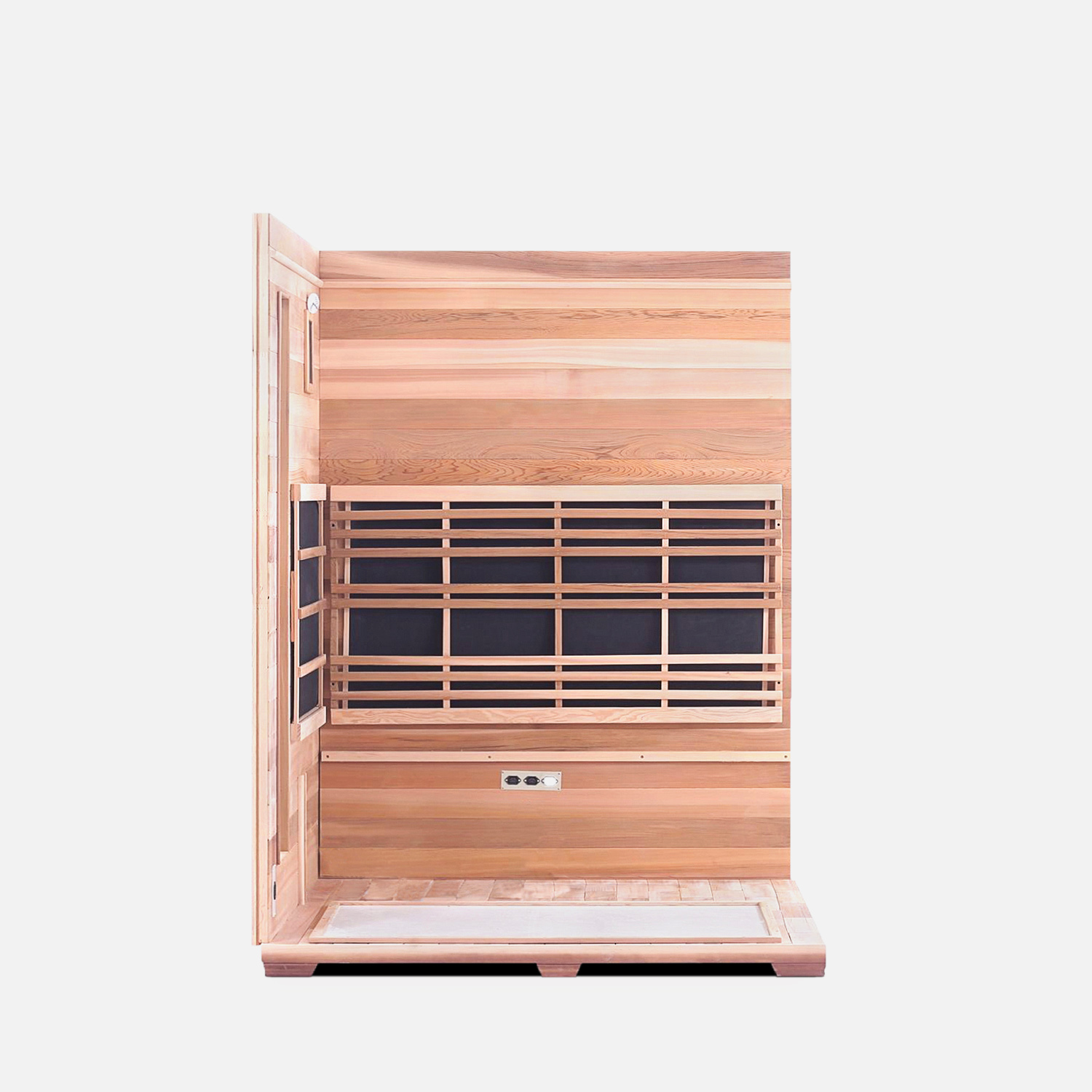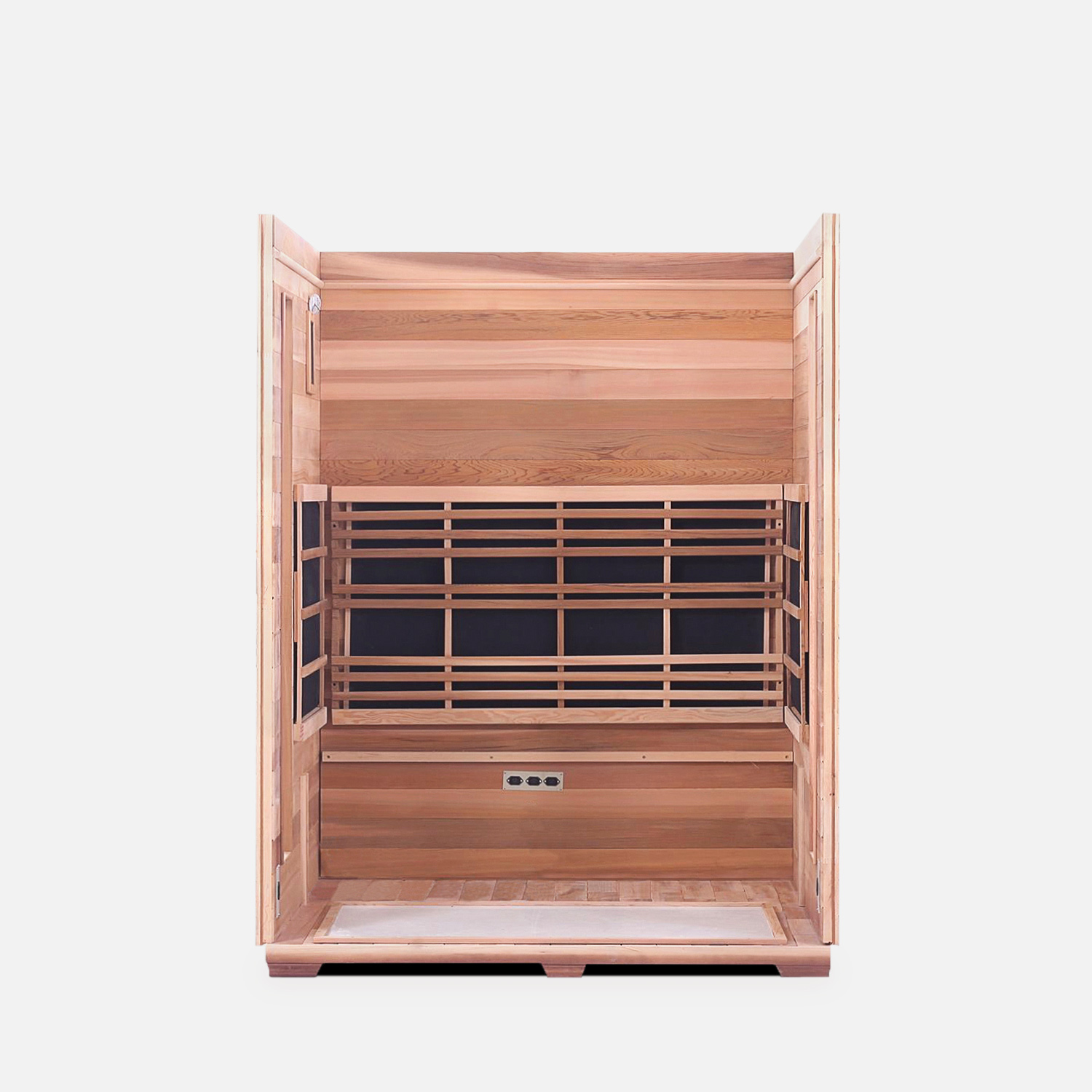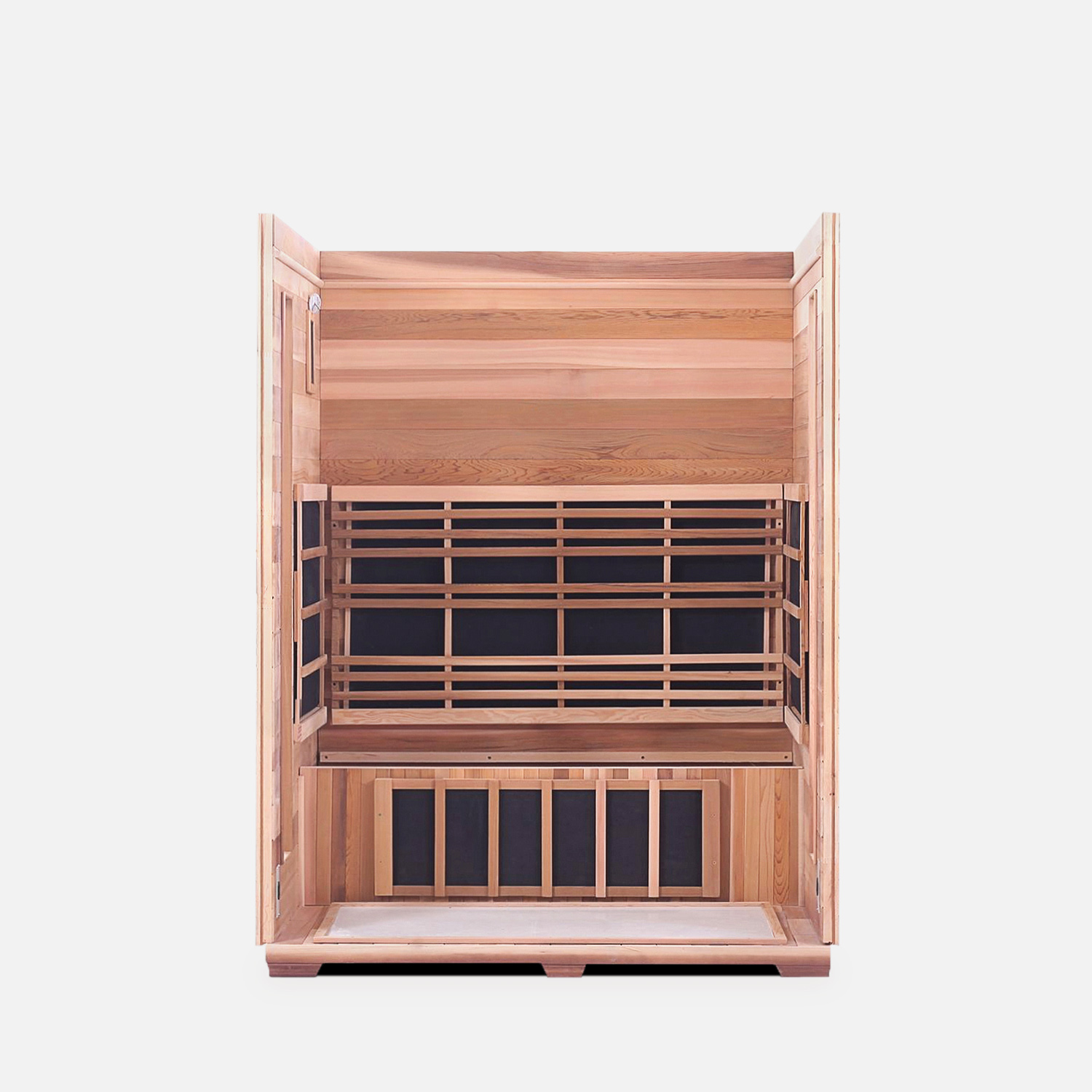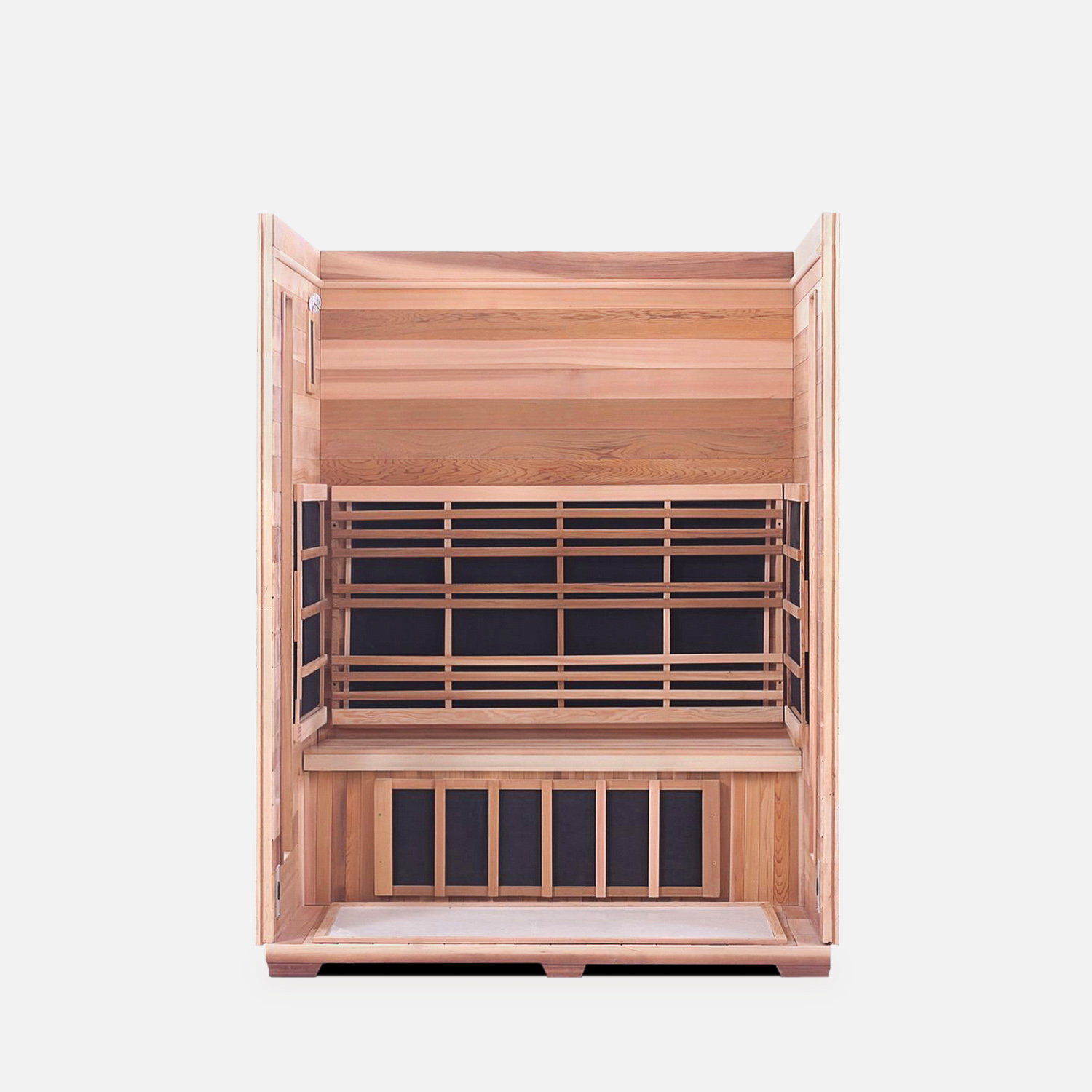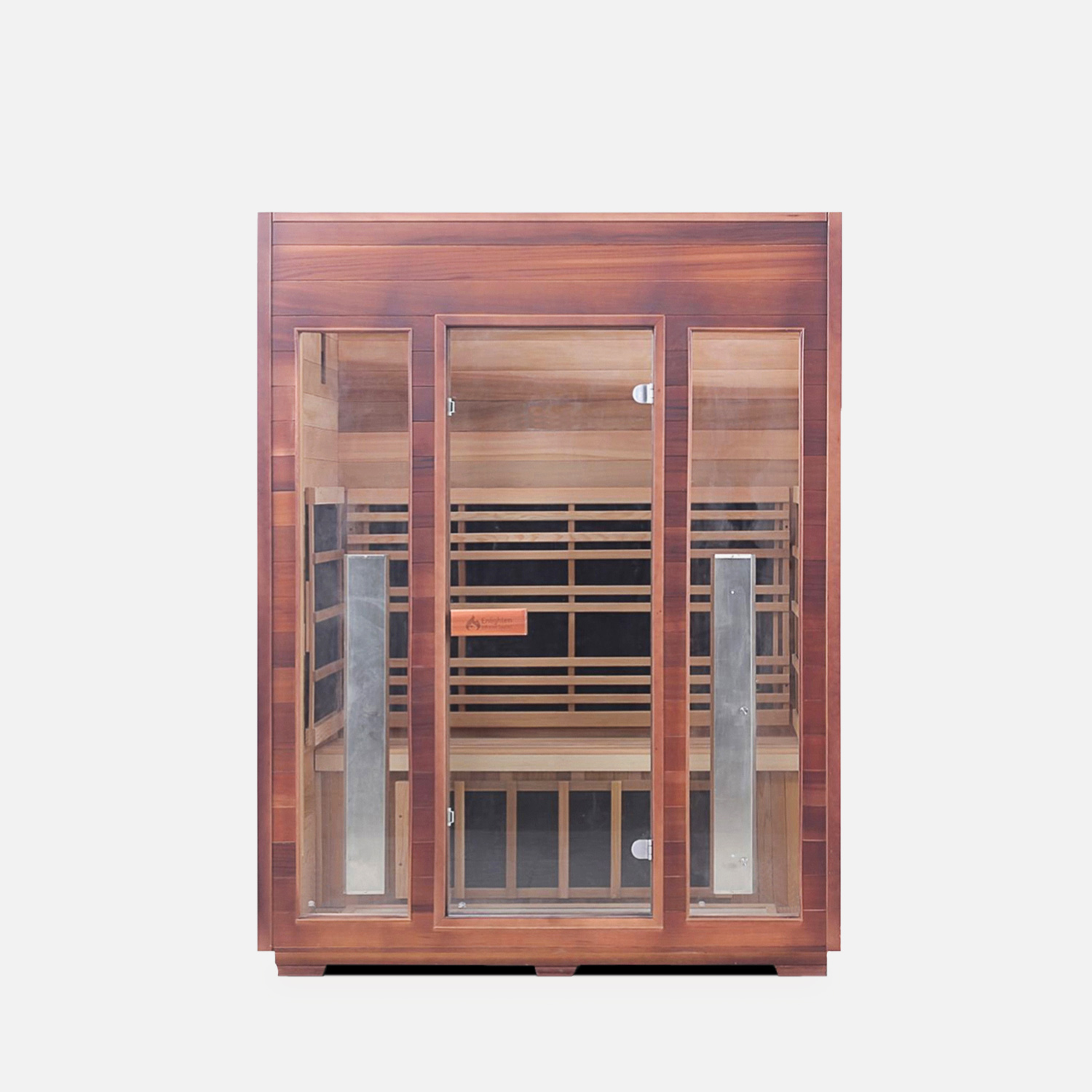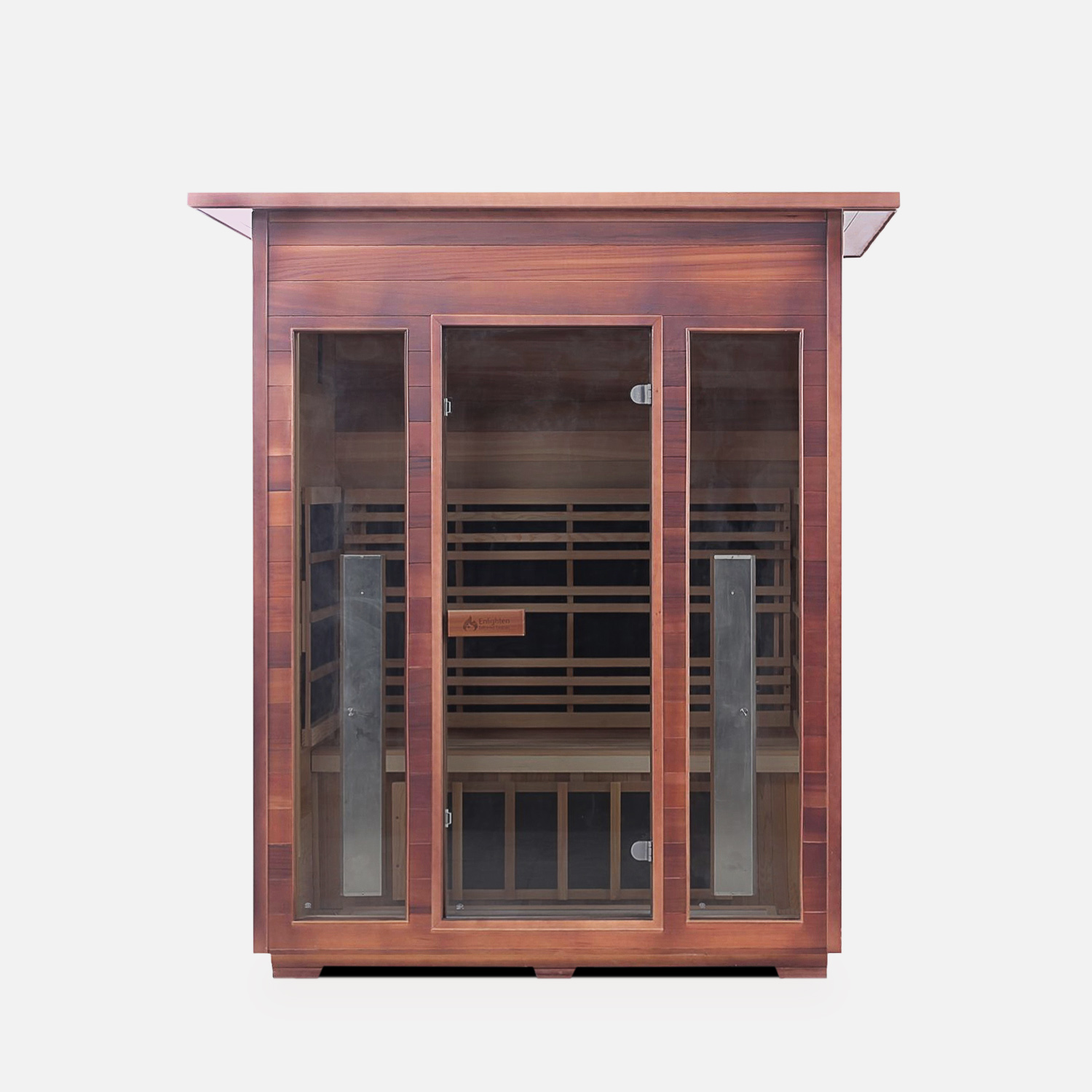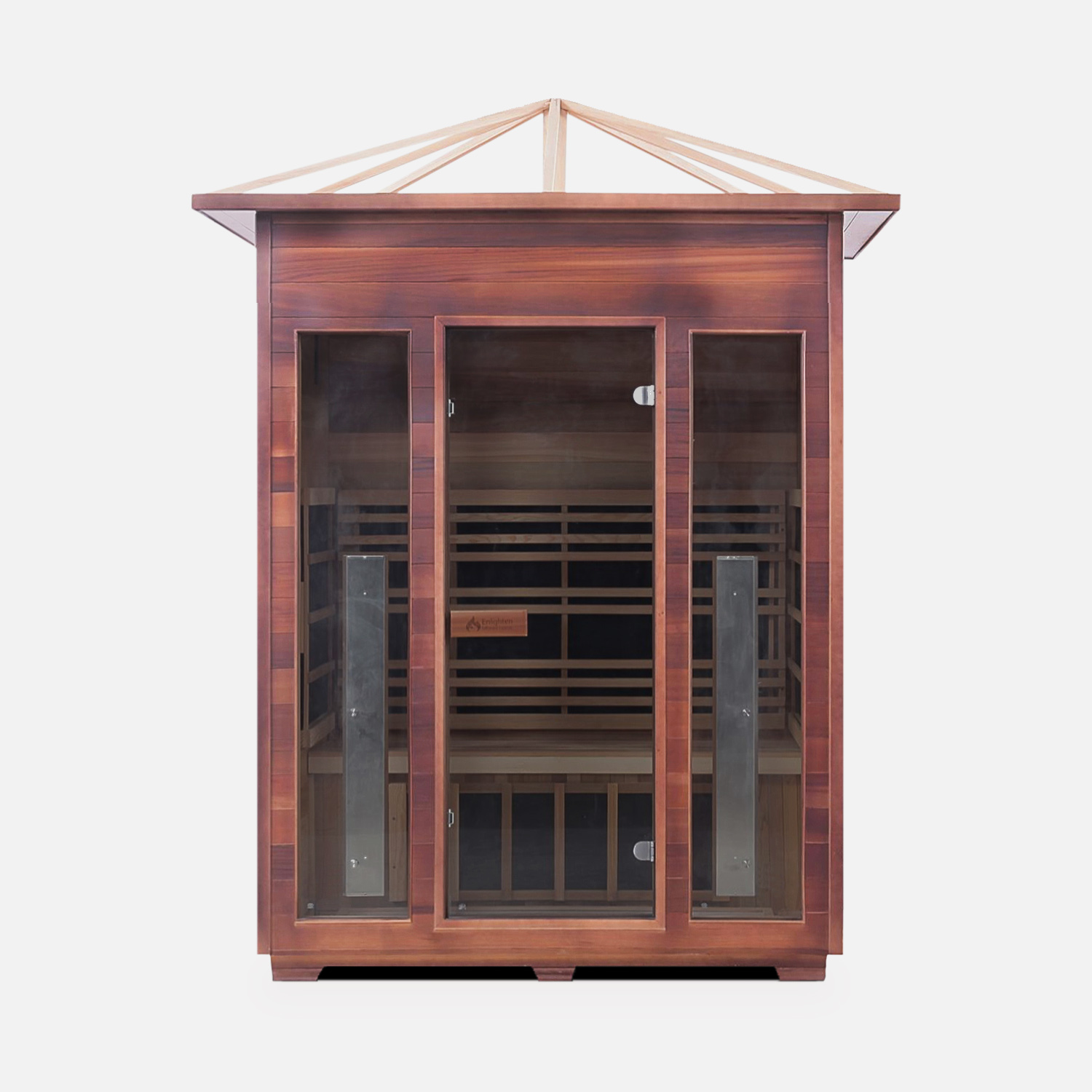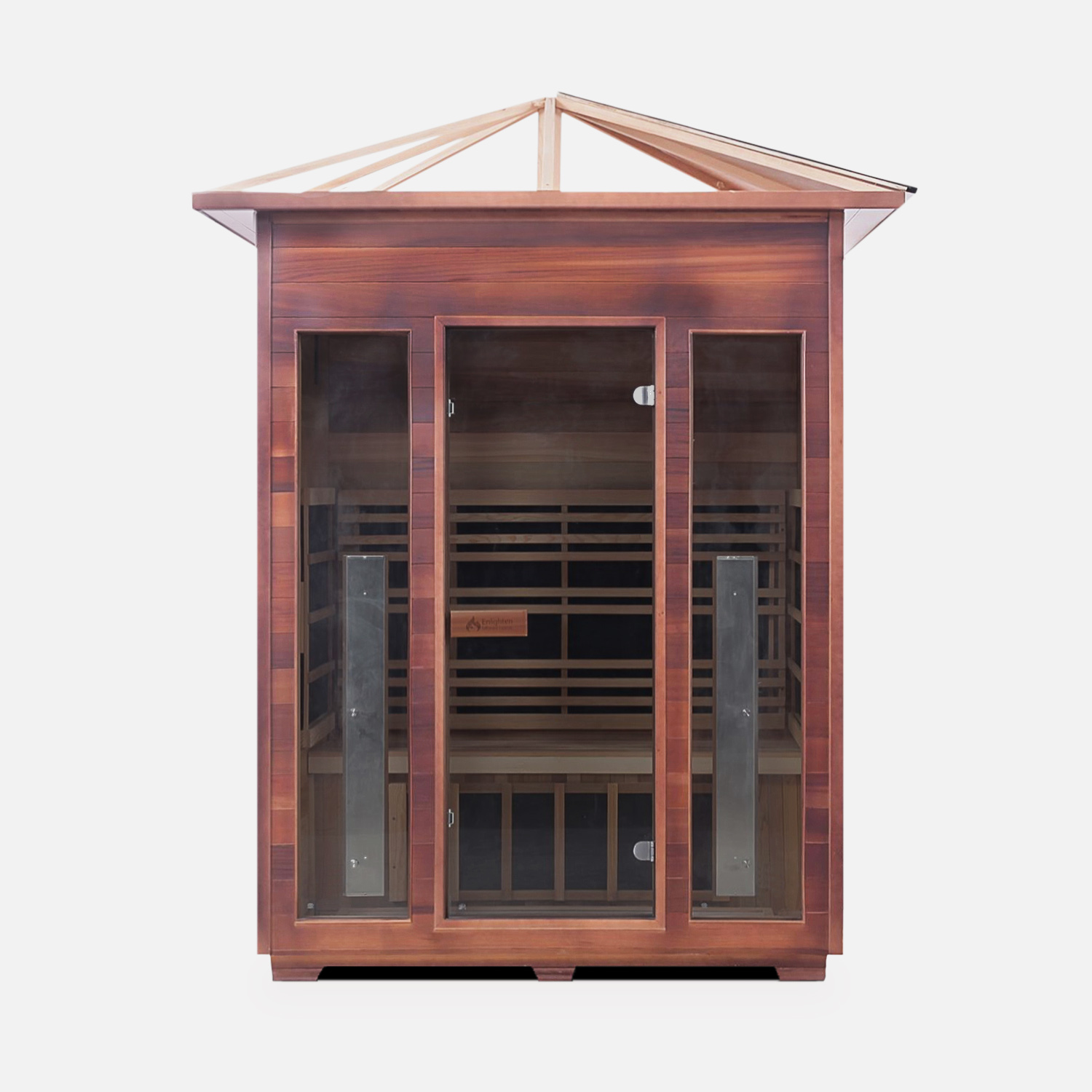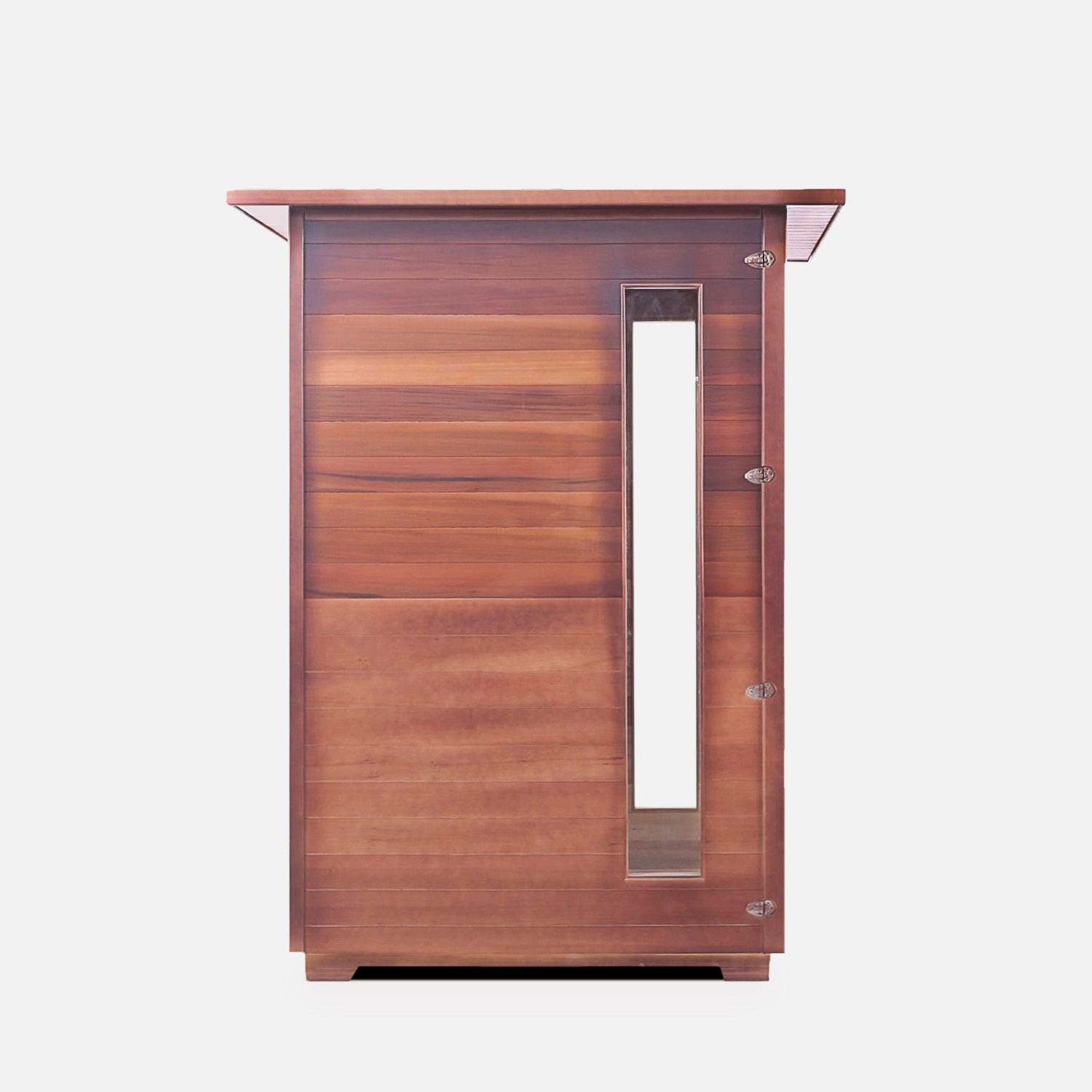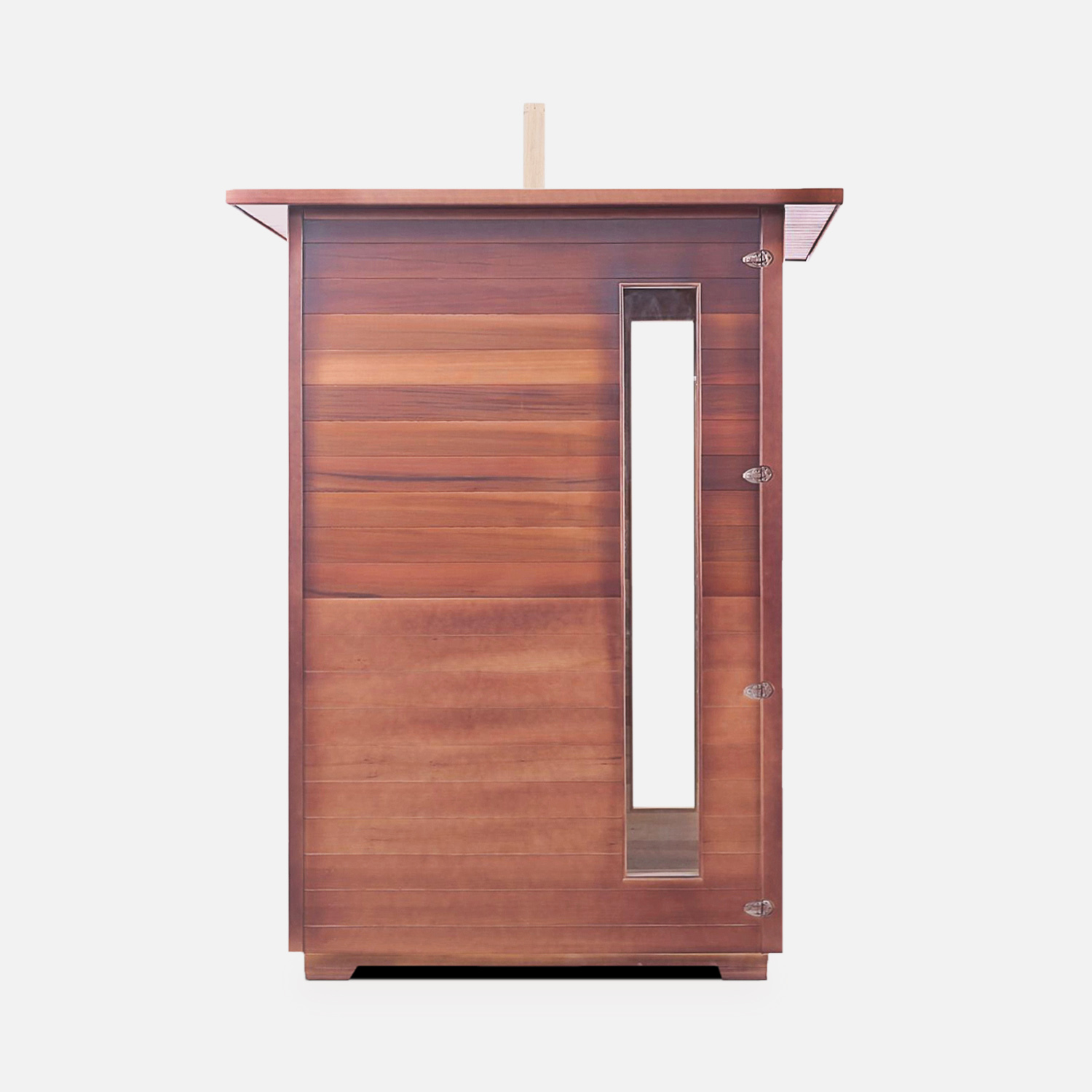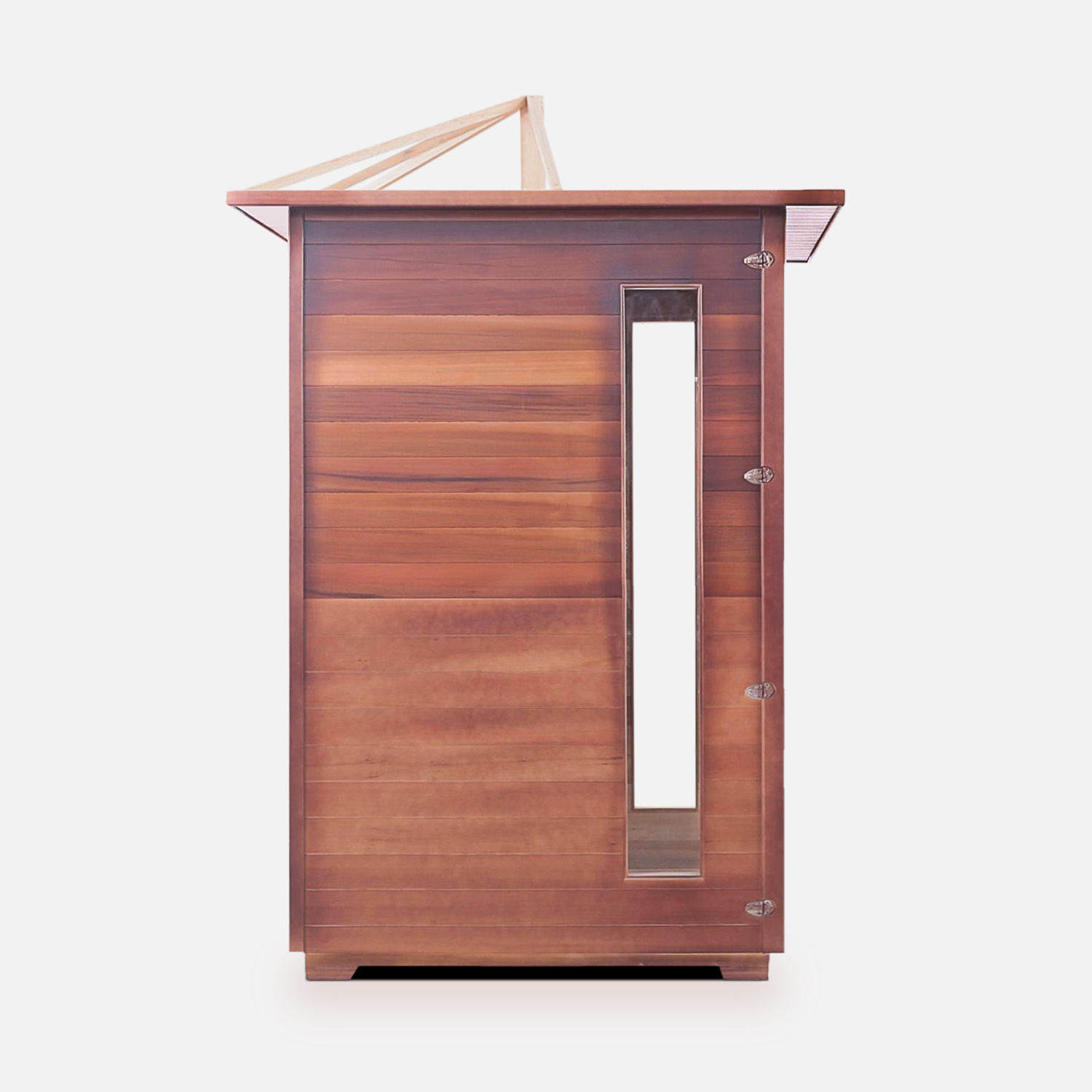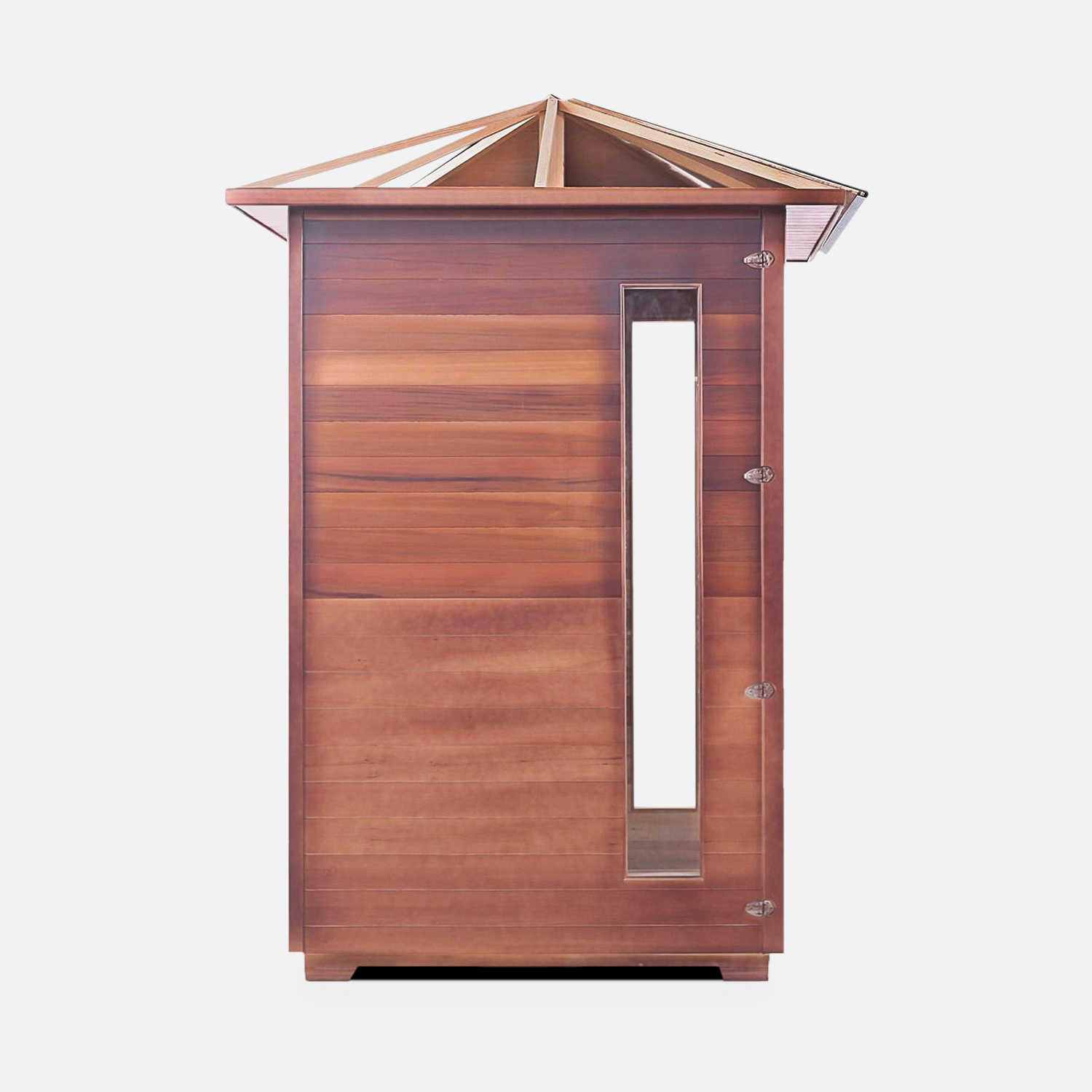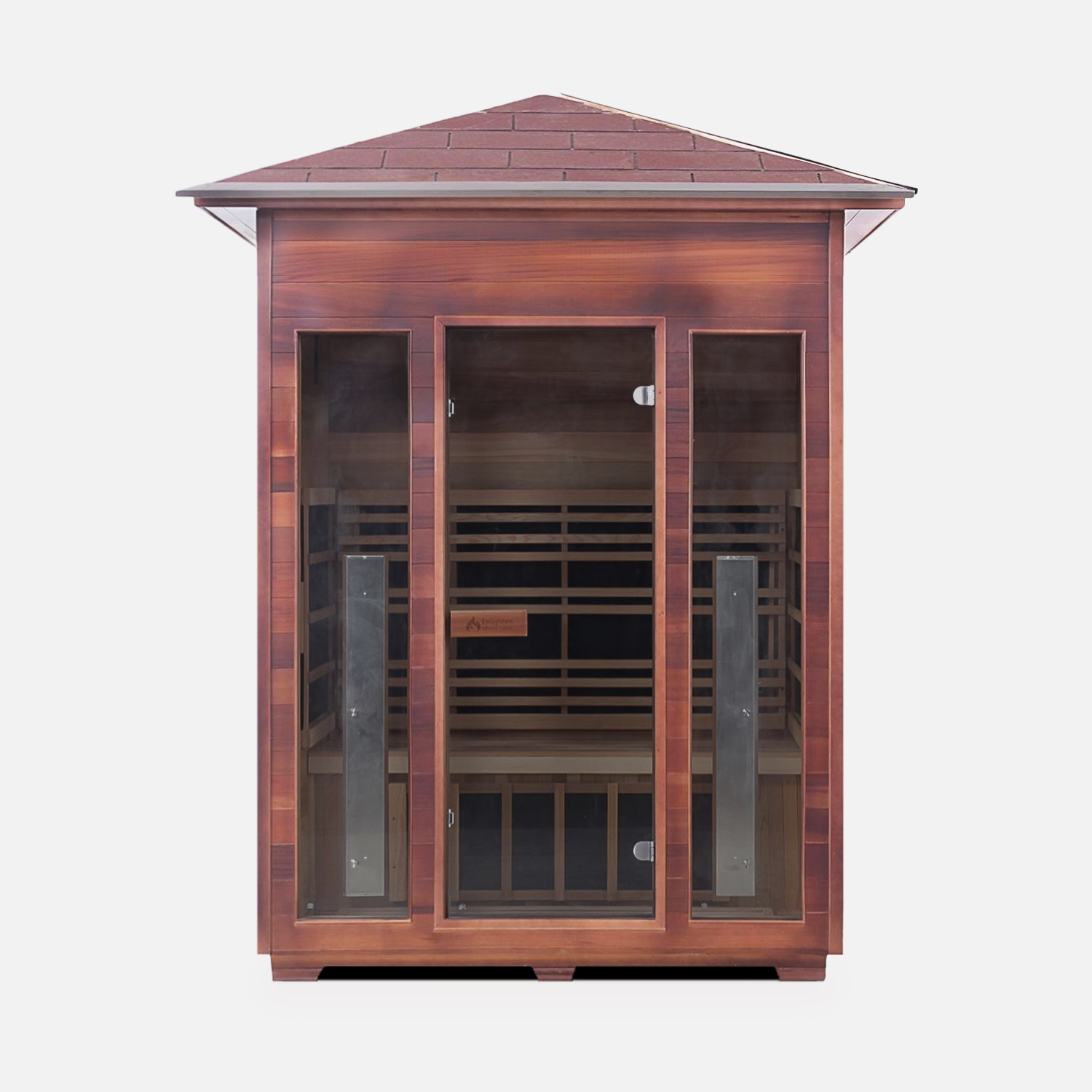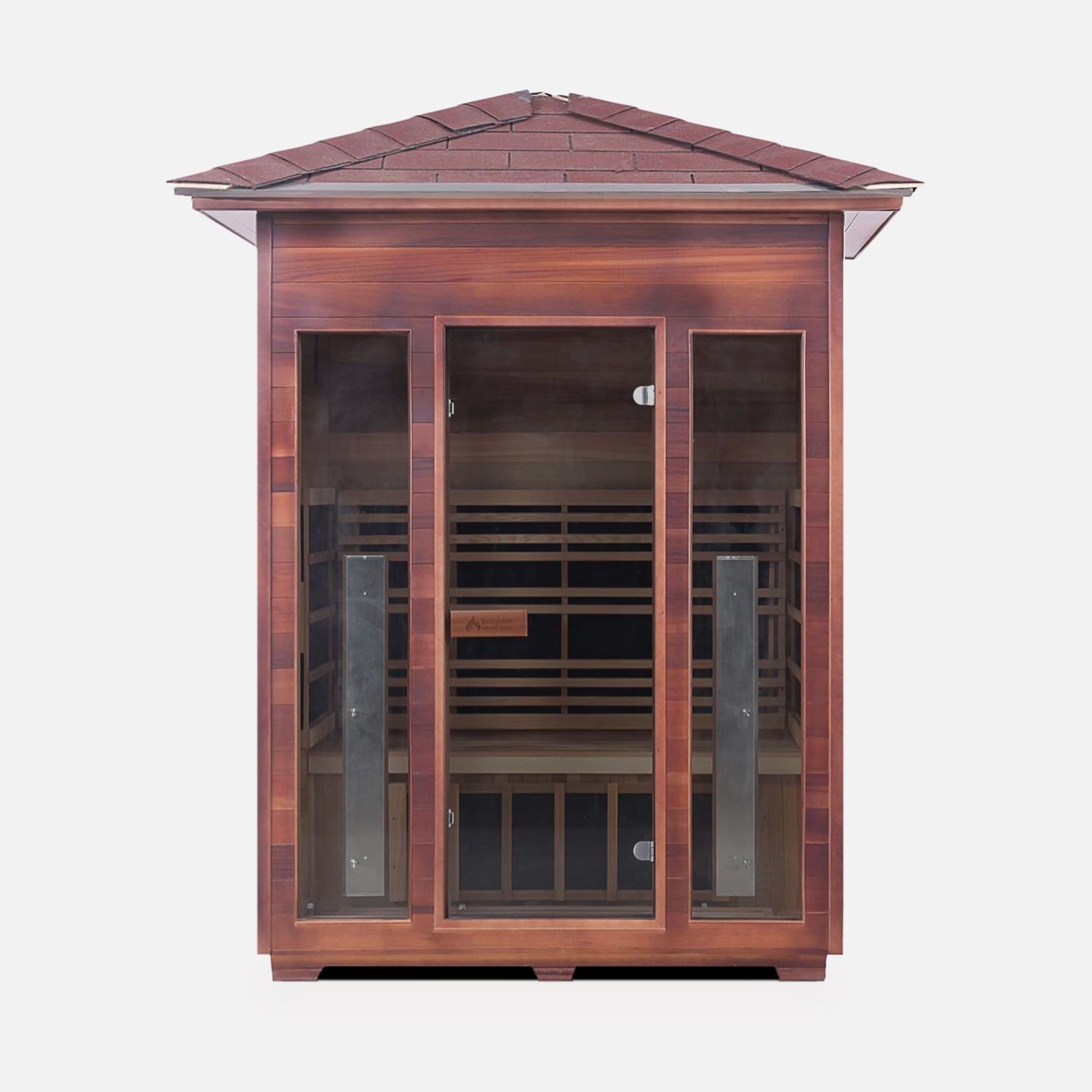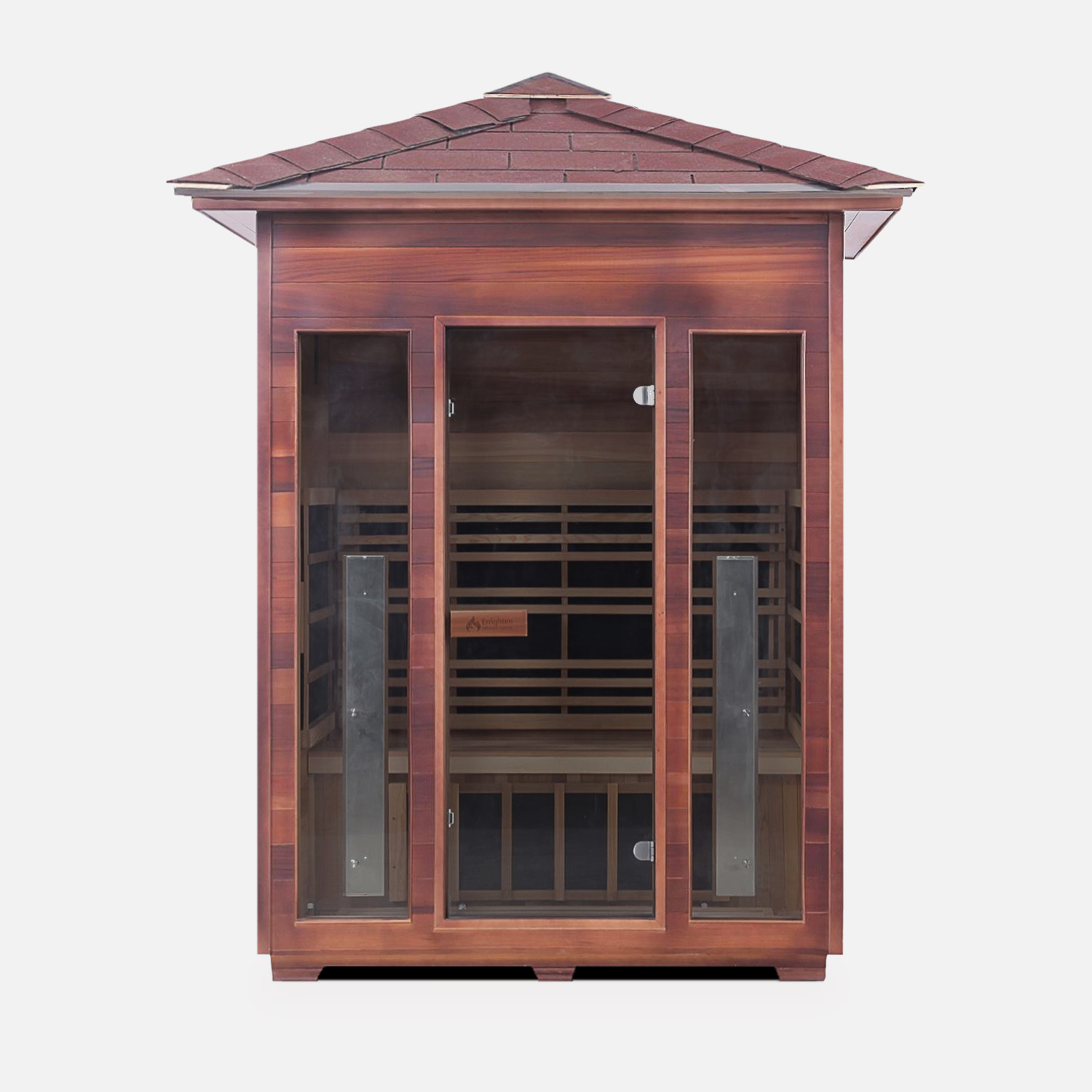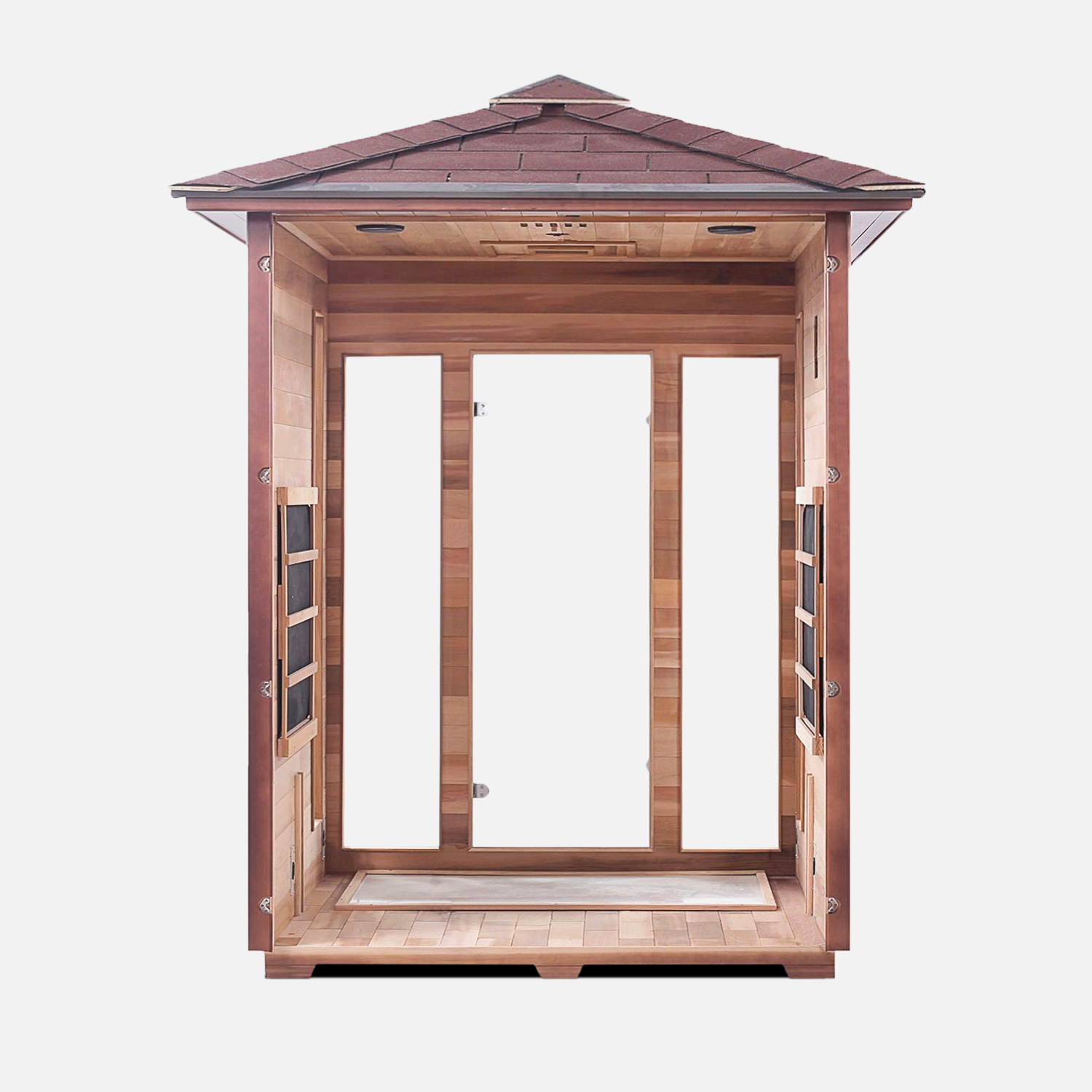 Heaters

Sauna Demension Scheme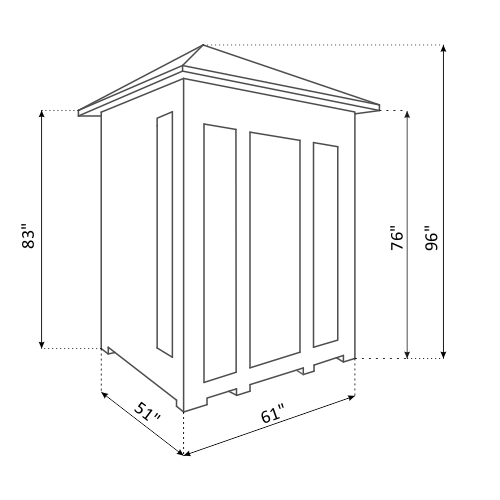 Shipping
Order Confirmation
5-10 business days to get it ready for shipping, and then it can take anywhere from 3- 14 business days to get it delivered, depending on where the customer is in the US. We ship from Northern California.
As soon as you place your order, you will receive an order confirmation e-mail.  This means that we have received your order in our system and pre-authorized your credit card for the purchase.  As soon as we receive your order, we automatically reach out to our suppliers to confirm that it is in stock and available for immediate shipment.  If your item is on backorder or unavailable, we will void the pre-authorization and reach out to you via e-mail.  If your item(s) are available for immediate shipment (within 5 business days), we will process the charges and submit the order for shipment.
Order Shipment
If your order is stock and we process the charges to your credit card, it will ship within five business days from the date of your order.  We will send you tracking information within 24 hours of your order leaving the warehouse to the e-mail address you provided when checking out.  If you do not receive tracking information from us within six business days of your order, feel free to follow up with us at support@healingsaunaconnection.com
IMPORTANT: PLEASE REVIEW THIS ENTIRE DOCUMENT BEFORE
RECEIVING YOUR SHIPMENT. IF YOUR SHIPMENT ARRIVES OFF THE PALLET: DO NOT SIGN FOR THE UNIT WITHOUT THOROUGHLY INSPECTING THE CONTENTS OF EACH DELIVERED BOX.


Please kindly ask the driver to wait for you to ensure that your unit has arrived in good condition. We strongly encourage you to open each delivered box and carefully inspect the contents inside BEFORE signing the delivery receipt (Proof of Delivery). By performing this task immediately, you are not only helping us to more quickly determine whether your unit arrived damaged or undamaged, but it also protects you against any possible product liability claims.
NOTE: Once you sign the delivery receipt, you are certifying that your unit arrived in good condition and that both, the shipper(Enlighten Sauna) and the freight company are free of any liability.
Take Pictures
A still camera or the camera on your phone can be extremely helpful in documenting the shipment's condition upon arrival. Please take pictures of ALL damages. Carefully check for damage to glass panels, electrical components, wooden components, accessories, etc. Take pictures of each side of the damaged box(es) and items. Please be sure to not misplace any inventoried item.


Have The Driver Write "DAMAGED" With Their Initials
If the driver is in a rush and says he cannot wait for you to inspect your shipment thoroughly, initiate a quick visual examination of the boxes' exterior condition. Any visible signs of possible damage to your shipment please proceed to ask the driver for initials and 'damaged' written on receipt.

NOTE: If there is any damage to the pallet(skid) there is a possibility that contents laying against the pallet(the bottom) have been damaged. In this case, please take pictures of the pallet and the boxes upon arrival.


NOTE: PLEASE NEVER WRITE/CHECK OFF: "SUBJECT TO INSPECTION", "NO VISIBLE DAMAGE", "DAMAGE TO CRATE/PACKAGING" or "POSSIBLE DAMAGE" ON THE PROOF OF DELIVERY.
The freight company will not accept a damage claim if any of these phrases are written/checked off on the p.o.d form. If you see any damages on the shipment, simply write 'DAMAGED' followed up by more detailed information. Ex: "Damaged - hole in cardboard box can hear broken glass rattling."
All Damages Must Be Reported Within 72 Hours
We strongly advise you to promptly check for any damages shortly after the driver leaves. Please DO NOT wait a long period of time to open up your packages as you are only allowed 72 hours after delivery to report any damages to us. The freight company and the shipper CAN NOT be held liable for any damages if they are reported after this period of time.


Keep All Original Packaging
If you do submit a damage report, during the 72 hours period, we advise you to keep all original packaging. Once the damage claim is forwarded to the freight company, an inspector will be sent out to personally examine the damages, in order to process the claim properly. If the inspector is unable to examine your shipment, the freight company will not claim any liability because it cannot be proven that they are responsible for any damages.


Do Not Move Damaged Packaging
Once the claim is settled, it is very important that you do NOT move any damaged packaging to a different location. The freight company and the shipper cannot be held liable for any damages if the unit is moved to a different location after it has been certified to have been delivered in good condition to the correct address.
Create An Inventory List
Create an inventory list of damaged items to ensure an accurate replacement (please include images if possible). This helps us expedite your claim and send replacement parts in a timely manner.

PLEASE NOTE: We provide free delivery to the nearest point of entry. Any additional requests made by the customer (i.e bring sauna inside/further in, etc..) will be billed by FedEx and Healingsaunaconnection.com will not be responsible for those charges.
FAQ
Where are you located?

Healing Sauna Connection is located in Sacramento, California.

Where do the saunas ship from?
Our suppliers are located in different cities throughout the USA and Canada. So the products get shipped from those locations. Please see list below:
Aleko- Kent, WA
Auroom-Wheeling, IL
Canadian Timber- Ontario, Canada
Enlighten- Burlingame, CA
Golden Design- Jurupa, CA
Scandia-Eagle, ID
SunRay-Richmond, VA
Thermory- Wheeling, IL
How much does shipping cost?

We provide FREE shipping within the continental US. For Hawaii and Alaska on all saunas, heaters and accessories except for sauna rocks and stones. Unfortunately, this is very expensive to ship. You can email us at sales@healingsaunaconnection.com and we can get you an estimate.
How long does it take to ship?
Aleko: Most orders are processed within 12-24 hours. Orders are now delivered 7 days a week! Orders are not shipped on holidays or weekends. Some shipping and delivery delays can occasionally occur. Typical packages arrive in 3-5 business days.
Canadian Timber:- 10 -15 days depending on which area it's getting shipped to.
Enlighten: Depending on the availability of the sauna and size of the order, it can take from 7 to 14 business days to ship. Smaller orders are quicker to process for shipment, while larger items need to go through the process of testing to make sure it is working before we ship to our customers.
Golden Design:  Your sauna will ship out of our warehouse within the next 2 business days. Usually delivery is 7-14 days
Scandia- Saunas: 10-12 days lead time and 3-14 days delivery. Heaters: 4-6 weeks lead time and 3-10 days delivery. ( Unfortunately due to a backlog of orders we apologize for the long wait time)
SunRay: We ship anywhere in the USA within 8-10 business days for in-stock models. Stock changes frequently so please contact us if you need a specific delivery date. In stock orders will be shipped within 1-2 business days.
Thermory:


Does my sauna come already assembled?
They come in kits. You will need to assemble it.

How do I assemble it?
You can assemble it by following the assembly guide. The assembly guides should be located on the product pages.

Do you have certified professionals to assemble?
We do not have certified professionals to assemble. However, many people find Handymen off of yelp.

Do you provide financing?
We have partnered with Klarna to provide financing options. Just click on the Klarna link next to the sale price of the product you want to buy and Klarna will pre-approve you in a few steps.


What type of flooring can the indoor sauna go on?
Anything other than carpet.

What are the recommended flooring?
Concrete, ceramic, vinyl, laminate, tile or solid floors

Can Indoor saunas be used Outside?
Indoor saunas cannot withstand the outdoor temperatures. However, Enlighten has a few options that can be used indoor as well as outdoor provided that you select a pointed or slanted roof.

What are the electrical requirements?
Aleko: 220V-240V
Canadian Timber: Need to be hard-wired to an electrical panel. The voltage is 240 single-phase and the heaters will require a 30 amp, 40 amp, or 50 amp breaker depending on the size of the heater.
Enlighten: 220-240 V
Golden Design: 120V
Scandia: 208-240V
SunRay: Infrared-120V and Traditional-220V
Thermory:

What are the maximum temperatures for the saunas?
Infrared: The main difference is that an infrared sauna can create the same experience as a dry sauna but at a lower temperature range, usually between 80 to 130 degrees Fahrenheit
Barrel: Electrical heaters 194 degrees Fahrenheit and Wood Burning heaters-212 degrees Fahrenheit
Outdoor traditional: The temperatures for traditional saunas typically range from 150 to 190 degrees Fahrenheit
Indoor traditional: The temperatures for traditional saunas typically range from 150 to 190 degrees Fahrenheit
Hybrid: 0-189 degrees Fahrenheit

Can a barrel sauna be used indoor or outdoor?
Some models are outdoor and some models can be used both indoors and outdoors. Check the product pages for more information.

How much will it cost me to operate the sauna?
Heat up time is fast-about 30 minutes-and the Sauna is only on when being used, unlike spas. The average home Sauna costs as little as $3 per month to operate, when used for an hour 3 times a week.

How many years of manufacturer's warranty come with the product?
Aleko: Wooden Saunas include a 1-year limited warranty (Electrical Sauna Heaters include a 1-year limited warranty.)
Auroom: 2 Years
Canadian Timber: 3 years. The Canadian Timber Collection by Dundalk LeisureCraft Inc. Outdoor Showers are warranted against defects in materials and workmanship under normal/residential use for a period of three (3) years, as applicable, from the date of receipt of the product. This warranty does not apply to normal wear and tear and/or natural weather conditions. This warranty does not cover regular required maintenance of the outdoor shower, (eg. Draining water before freezes, cleaning or staining the outdoor shower) refer to your shower assembly manual for maintenance guidelines. This warranty does not cover misuse or negligence and the manufacturer and associated retailers are not liable for any injury or damage caused by the product. This warranty is a parts only warranty and any service or labor costs would not be considered as part of the 3 year warranty.
Enlighten: Indoor-7 years and Outdoor-3 years
Golden Design: 5 years manufacturer's warranty
Scandia: 1 year on parts.
SunRay: 7-Year warranty against defects in materials and workmanship
Thermory: 1 Year warranty
Returns & Exchange:
Please Note:  Our 30-day Return Policy is dependent upon our vendors' return policies. If a product does not support the policy, it will be stated in the product description as well as below. 
Cancellations & Refunds:
Healing Sauna Connection truly believe in the products that we sell and are proud to be representing the brands that we have. However, we also understand that as a customer you might change your mind about your purchase. Therefore, we do offer a
30 day return policy for the vendors listed below.  
Aleko
Enlighten
SunRay
Golden Designs
14 day return Policy for the vendor listed below:
NOTE: The following vendor does not accept returns and sales are final
Canadian Timber-

Canadian Timber by Dundalk Leisure Craft do not allow returns. For all Dundalk Leisure Craft product purchases, sales are final. Items damaged during transit are refundable. Per Dundalk Leisure Craft's policies:

"If the crate arrives damaged, you can accept the shipment, however, please take pictures of the damage, and note the damage on the shipper's Bill of Lading. Immediately, contact your dealer and Dundalk, so we can contact the shipper."

You will also need to communicate this with the driver of the truck that had delivered your crate prior to them leaving your premises. You will need to request that they mark a document called the "Bill of Lading" with "Crate arrived open/damaged – Possible Hidden Damage."
Note:  In order to receive a refund for the item(s) ordered, the item(s) must arrive back to our distribution center in "Like New" condition and must contain all original packaging and accessories. "Like New" means that the items you ordered must not show any visual signs of wear.
The following vendors change a restocking fee. 
Enlighten- No fee
SunRay- If in " Like New" condition 15% restocking fee. If there are damages the restocking fee will be 25%.
Golden Design-20% restocking fee.
Scandia- 20% restocking fee.
All orders cancelled after 48 hours are subject to a $20 administration fee, whether or not your order has shipped.  If you order has shipped, you (the buyer) will also be responsible for actual return shipping charges. Refunds will only be issued to the original credit card that you use when placing your order.
Damages:
Please inspect the packaging of your item(s) when they arrive, if you notice any damage you should make note of it when signing for delivery.  If your item(s) do arrived damaged, please send photos to returns@healingsaunaconnection.com and we will process an insurance claim on your behalf.
---